About Polyflor Canada
The home of resilient flooring
Polyflor is a major manufacturer of high quality, high performance commercial and residential floorcoverings, and the pioneer of homogenous sheet vinyl.
With offices and warehousing located in Mississauga, Ontario, Polyflor Canada carries extensive levels of locally available Quick Ship stock. More than 14 collections feature in the Quick Ship line up offering hundreds of colours to select from and all available for immediate collection or dispatch. Plus, with weekly shipments direct from our factories our entire product collection is just weeks away.
Here to Help
The foundation of Polyflor's success is our customer focus, and we work closely with contractors, specifiers, and end users to understand their requirements and provide the ideal flooring solution for any installation.
Our floorcoverings offer solutions that are both appealing to your design and functional with options for safety, acoustics, sport, and more. Industries that benefit from the features of our flooring include healthcare, education, commercial kitchens, retail stores, hospitality and leisure, industry, and corporate offices. We also offer wall cladding for a variety of applications. Get ideas for your project by browsing through our market segments. There you will find plenty of fabulous inspirational ideas to help you choose the flooring solution that's perfect for you.
From our sales force to our design team, Polyflor has dedicated personnel that provide comprehensive customer support. We have developed an extensive network of agents, distributors, and wholly owned subsidiaries throughout all markets globally, to ensure excellent product and sample availability.
Contact Polyflor directly in Canada, through your local distributor or via our website www.polyflor.ca/contact
Learn more about our global network through Polyflor International, and discover our commitment to quality, customer support, and sustainability.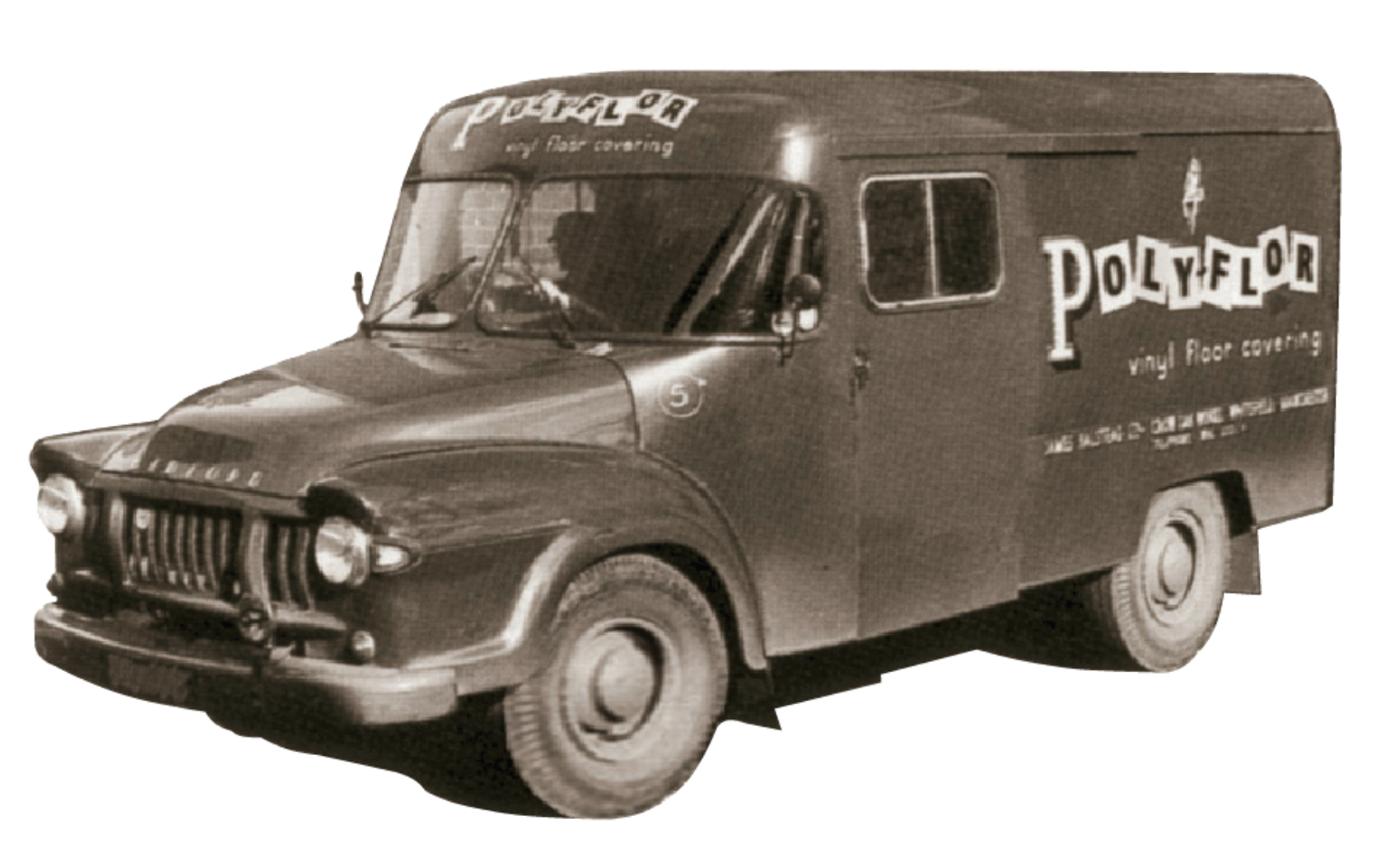 History of Polyflor
Quality commercial flooring built on a foundation of over 100 years of experience
Originally a textile company, James Halstead PLC, the parent company of Polyflor Canada Inc., was founded in 1915 near Manchester, England. It was here they pioneered the development of homogeneous vinyl floor coverings that Polyflor produces today.
Over one hundred years later, we are still manufacturing in Manchester, and Polyflor operates as a major manufacturer of commercial and residential floorcoverings with dominant market share in the UK, Germany, and Australia.
Innovations in commercial flooring
Polyflor is constantly striving to improve processes and products to reflect the changing demands and needs of both the commercial and residential flooring markets. In recent years alone we have invested £34 million in developing new manufacturing plants and equipment, enhancing, and expanding our product portfolio to provide added value for our customers.
From our early origins to our current position as a leading global manufacturer of commercial & residential floorcoverings, our success story continues in the practical and beautiful solutions we provide to our customers.
Commitment to Quality
At Polyflor, quality commercial flooring means performance, design, and environmental sustainability
Polyflor is a quality-driven organization, and the manufacturing processes and systems for all of our floorcoverings are ISO 9001 certified. We test our products against a wide range of international standards, including slip resistance tests and stringent VOC emissions tests. We are fully committed to reducing the environmental impact of our operations, and also conform to ISO 14001.
Award-winning innovations in flooring solutions for the international market
In 2006, Polyflor's parent company, James Halstead PLC was awarded the Queen's Award for Enterprise, for outstanding achievement in the category of International Trade (and again in 2011). James Halstead PLC was also presented the Queen's Award for Innovation in 2007 in relation to the Polysafe family of floorcovering products.
Polyflor Canada supports this commitment to quality with exceptional customer support, and we invite you to explore both our commercial and residential flooring products to see how we can make your space as beautiful as our flooring is durable and safe.
Customer Support
Polyflor has dedicated and experienced personnel within our sales, marketing, technical and design departments, and these people provide comprehensive and diligent support to our customers.
We can provide advice on the suitability, performance, and application of any Polyflor product and support you throughout your project.
Investment has been made in new and improved warehousing facilities, enabling us to hold even more stock, ensuring availability and fast lead times for our customers.
The Polyflor Canada website provides an easy-to-use reference point for product specifications, technical data, colours, and samples. You can also download product literature on specific product pages and request samples.
Experience the 'Power of a Polyflor Partnership'.
Let us partner with you to help you find the perfect flooring solution. Contact us today!