Healthcare
Ideal Flooring Solutions For a Modern Healthcare Environment

21st-century healthcare design is about the creation of comfortable, relaxed environments that are safe, clean, and welcoming. An uplifting environment with a positive ambience can inspire health and well-being amongst patients, staff, and visitors. The choice of floorcovering, when part of the complete design concept, can have a major impact on the 'feel' of a hospital, making a real difference to the patient experience.
Global Experts in Healthcare
It is widely recognized that to enhance patient wellbeing, attention to the whole environment is necessary, including the choice of flooring. At Polyflor that choice is vast and readily available, whatever the scale of your project.
Design, colour and the use of patterns can transform any healthcare facility contributing positively to the comfort of patients, staff and visitors through the creation of welcoming, bright and airy spaces. Colour can assist with way-finding and zoning and help the flow of traffic, supplies and services around a busy healthcare environment.
With a broad palette of contemporary colours, as well as wood and stone, abstract & textured flooring designs to choose from, the comprehensive Polyflor collection allows the specifiers to create bespoke interiors with a distinct non-clinical feel.
Healthcare Flooring
Flooring is a known factor that can contribute to intelligent and carefully planned healthcare design, with medical experts now recognising the importance of the interior as part of the healing process.
Our product portfolio provides durable, easy to maintain, safe, and hygienic options for every corner of the facility. Because of our products and expertise in the flooring industry Polyflor has been specified in major hospital projects throughout the world for over 60 years.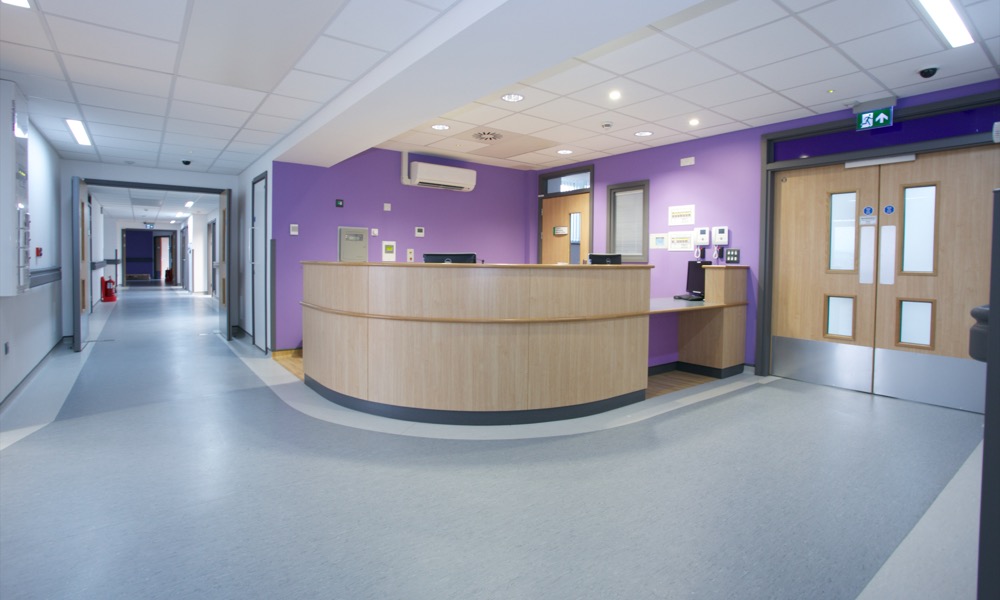 Gallery